I have been in a terrible sewing slump. It has been rather depressing.
Fortunately for my considerable investment in fabric, the sudden thought that I needed a warmish top to wear during an in-law visiting trip to the Hunter Valley inspired a 3 hour sewing effort immediately prior to our flight last Thursday, despite sewing nothing for a whole month prior to this. There is nothing like a deadline and a wardrobe omission for removing dithering.
I was inspired by the March Burda. I had been wanting one of the ubiquitous drapey front cardigans for some time, but every time I admired one on someone else and then tried one on in the shops, the effect was exceedingly fattening, as are all boxy styles on me.
Burda, however, published a pattern of a drapey sort of cardigan with actual bust darts and high waist shaping, and not only did this,but showed the garment in a gauzy pink knit (linen) which was a dead ringer for some gauzy pink merino that I just happened to have in my stash (Global Fabrics, Wellington, March 2011).This was terribly exciting, despite the unfortunate fact that I had half a metre less of the fabric than was required by the pattern.
Can you see my artful piecing? I pieced the bottom corner of one skirt piece, and the underarm of the left arm.
I made a few adjustments to the pattern,for fitting - square shoulder adjustment,full bust adjustment and generous backside adjustment.I made major adjustments to the sleeves - widening by about 10cm and lowering the sleeve cap by 6cm.
I used clear elastic as reinforcement in the shoulder seams, waist seam and neckline. The back neckline is bound using the binder on my coverstitch - although I basted the binding by hand first as the gauzy fabric was rather unco-operative. I also hand basted all the darts, and hand sewed the upper front neckline facing over the back neck binding at the inner shoulder seams. The rest of the garment was sewn using the overlocker, on a 3 thread stitch.
I am very pleased with the garment, although in retrospect I have made the sleeves too baggy in the upper arm. The front waist tips down in the technical drawing, so I don't think this effect is due to my alterations.
I had wanted a light, warm garment for layering during travel, and this was extremely useful, fitting tidily in a small handbag when not needed, and being almost wrinkle free.
I wore this garment frequently during the trip, and was forced to aknowledge that delicate gauze and I are not an excellent combination. There are a myriad of tiny holes developing in the cardigan already. I am not sure if these are due soley to pulling and stretching, or possibly to an unfortunate altercation
with a paddock full of cobblers pegs.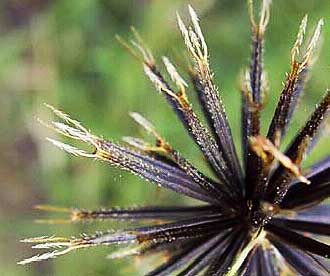 I may need another one in a more robust fabric.