One of my nieces has just turned 14, and in a moment of insanity I thought I'd make her something for her birthday.
This is only insanity because she lives about a thousand kilometers away from me, and the size and shape of a 14 year old girl can change dramatically in a few months - I last saw my niece in August.
I'm not completely crazy, I did check her current RTW size with my sister-in-law, but I admit to some nervousness before I recieved a lovely thank you email and a photo showing that this fits very nicely, even if it will only be for a few months. (My niece is very well trained in how to keep a sewing Auntie happy)
I had a lovely time making this top for her. I used Simplicity 4568 , from which my daughters had several tops at a similar age, and for them, as for my niece, I used the current size for height, 14, and one size smaller for width.
Previous, alternative, use of this pattern is shown
here
and below
This top has some lovely details for girls of this age, with small bust darts, waist shaping and a bias cut in the lower bodice, which suits an immature but not child's figure. There is a paucity of patterns for adolescent girls which have these components, and I think this pattern works just as well now as it did 10 years ago.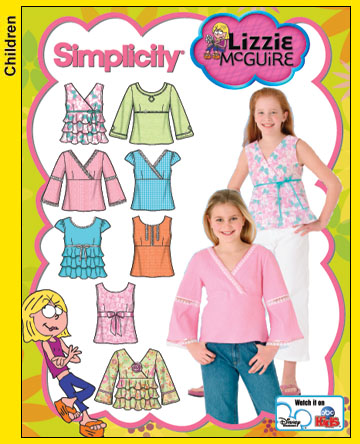 The fabric used is a medium weight woven rayon from
StoneMountain&Daughter
. As the pattern has several relatively small pieces I was able to use some oddly shaped remnants. I was very pleased to make good use of the rest of this rather indulgent purchase for myself!
I altered the pattern slightly in construction, using bias binding, hand stitched internally, to finish the neckline and armscyes, and attaching the empire waistline ties to the bottom of the crossed over upper bodice rather than the side seam to give emphasis to the mock wrap design.
I used French seams throughout, added a small front shoulder pleat to give additional bust room and correc the pattern's drafting error which mismatches the shoulder length in the larger sizes. I also added a snap fastener to the cross over section for security.