Thank you for the lovely comments regarding the sewing tools my husband made for me, I made him read them, and he was suitably gratified, although he did say "Do people read your blog? I thought it was a sewing journal"
He lost some brownie points for that one. Fortunately he has a lot already stored up for making me such nice presents. I love hand made gifts.
I will show him this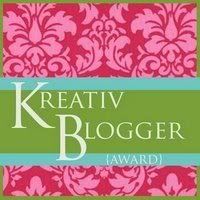 I am feeling particularly uncreative recently (sorry for no posts, not even finished object posts), so it was lovely of
Liana
and
Claudine
to send me this. I am honoured that such accomplished people read my sewing journal.
I read a lot of sewing blogs. I have 80 or so on my bloglines account. I like all of them, so will not pass on an award to a mere 7, although I think nearly all of them have this pat on the back already. Instead I will update my blog roll, which I have been meaning to do for some time now, and resolve to be less lazy about comments. Do not hold your breath though, my children go back to school tomorrow, and I really deserve a bad mother award. I bribed my older daughter to cover my son's school books, (she is a very useful girl) and he is still missing a new school uniform shirt in which to start Grade 1. Fortunately my friend with 4 boys(at the same school)gave me a box of hand me downs last week! I have been a bit busy at work lately, and everything else is suffering, particularly sewing. Maybe trying to make chair covers was a fatal mojo mistake.