The work experience mini wardrobe continues. Today's outfit is completely made by me, but I will focus on the attention drawing blouse for this post, as I have not quite recovered from finishing the hem on the skirt to a deadline.
I bought this pattern after it was one of the
2009 top 10 patterns at pattern review
, and have made it twice, once for myself, and once for my older daughter.
My younger daughter has long coveted her sister's version, but alas, they are differently shaped and cannot wear the same blouses.
Having previous experience with this pattern, I felt that it runs large, and started with a size 6, which is a size smaller than my daughter's high bust measurement would suggest, should I believe the pattern envelope, something I have learnt not to do.
I made version B, without the collar.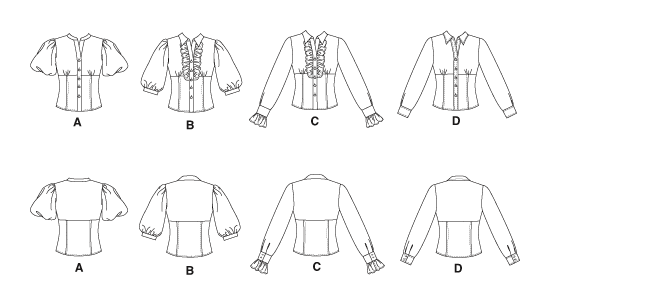 The fabric is a cotton shirting, which I think came from Michael's Fabrics, but cannot remember exactly due to the extent and age of my cotton shirting fabric collection. I am not even slightly embarrassed about this. Wardrobe sewing requires stash in my opinion.
The pattern has multiple cup sizes, which is my favourite big4 pattern trend. I used the appropriate cup size piece, and made a square shoulder adjustment and shortened the blouse above the bust/mid scapula region by 2cm. I added fabric width at the back hem line, tapering to the waist, to allow a looser, almost peplum-ish fit to suit the current peplum trend and to make the blouse more comfortable.
The sleeves have a more narrow cuff than the pattern, and I made a triple layer button band from the cotton shirting rather than using interfacing here. The collar stand is interfaced with super crisp fusible shirting interfacing from
Fashion sewing supplies.
The photographs were taken during my daughter's lunch break ( and mine, it is very nice to have a work day lunch with my daughter) and she told me that the ladies in the office complimented her on her pretty blouse this morning, so possibly we have not quite hit the work wear goal, but at least she looks well dressed!